Prefabricated Steel Structure Shipping Container Homes for Sale
Layout:1 bedroom1 livingroom 1 washroom
Seam lock steel cladding
Laminated flooring
Aluminum alloydoubleglazed windows and doors
Container Homes Floor plan: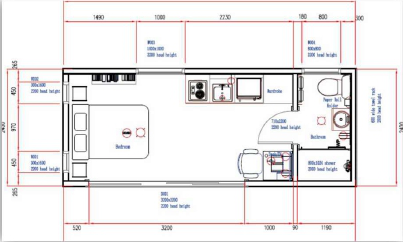 Our Advantage of Shipping Container Homes:
1. Environment Friendly. We only chose the qualified environmental protection materials for our production.
2. Safe. We always take the safety of people as the priority.
3. Humanized design. We fully consider people's comfortability and personalization on our designing of prefab container homes.
4. Easy assembly and disassembly. Our houses are very easy to be assembled and disassembled repeatedly.
5. Long life span. Our prefab container homes can be used for more than 25 years.
Prefab Container Homes Description:
ISO Standard Sea/Shipping Container Home/House for Sale in 2017
Brief introduction about Prefab Container Homes:
Container houses are clean, tidy, safe, and convenient. It saves time and energy and reduces the trouble of building. Container house uses a light steel structure to work as a labors ' dormitory. It's' advantages include easy transportation, good mobility, high stability, and long work life. Container house can locate at hillside, hills, grassland, desert, riverside. It takes up little space, sanitary and clean, with complete indoor facilities, strong stability, and durability, elegant appearance. Prefab homes can be designed and manufactured according to clients' requirements.
| | |
| --- | --- |
| Customized | Dimension customized, layout customized |
| Storey | 1-storey, 2-storey, 3-storey |
| Life span | 10-15 years |
| Lead time | 10-20 days |
The material of wall & roof

Sandwich panel option

EPS

Glass wool

Rock wool

PU

Outstanding characteristic

Cheap

A2 fireproof

A1 fireproof, good insulation

Best insulation

Thickness of layer

50mm

75mm

100mm




Thickness of steel sheet

0.326mm

0.376mm

0.426mm

0.476mm
WZH Container House is built by industrialized production methods. Some or all of the components of a house are prefabricated in a factory, then transported to the construction site, and the components are assembled by reliable connections. The house is known in Europe, America, and Japan For industrial housing or industrial housing.
Features of Prefab Cabins:
1. According to the calculation of production that has not been scaled up at present, the "prefab cabins" is about 30% faster than the traditional construction method.
2. Safety is completely ok, because prefabricated stairs, exterior walls, etc. are transported to the construction site, and reinforced concrete is also required to be overlapped, not simply connected. Reinforced steel runs through each floor and the structure is very strong.
3. Compared with traditionally built houses, the component accuracy is higher, which can improve common quality problems such as wall cracking and leakage, and improve the overall safety level, fire resistance and durability of the house. It adopts a lightweight partition wall system, and the owner can change the decoration as needed.
4. In the process of using the house, the modern prefab cabins are more energy-saving and environmentally friendly. For example, the new type of insulation layer has a better thermal insulation effect. If household metering is implemented, the temperature of the prefabricated house is higher at the same temperature, and the head of the household can consider lowering the heating temperature, saving heating costs, and reducing energy use.
5. It is of great benefit to energy conservation and environmental protection. Through factory production and on-site assembly and construction, construction waste and construction sewage can be greatly reduced, construction noise is reduced, harmful gas and dust emissions are reduced, and on-site construction and management personnel are reduced. It generally saves 20% of materials and saves about 60% of water.
6. This kind of housing industrialization is not only good for the capital flow of development enterprises, but also can increase the speed of listing of houses, so it can greatly reduce the current situation of insufficient market supply and adjust the supply relationship. After large-scale promotion, construction costs can be reduced and it will also play a role in curbing house prices.
7. Comprehensive cost accounting shows that the construction cost of prefab container homes is higher than the cost of traditional construction methods, which is about 400 yuan more per square meter. After large-scale promotion, construction costs can be reduced.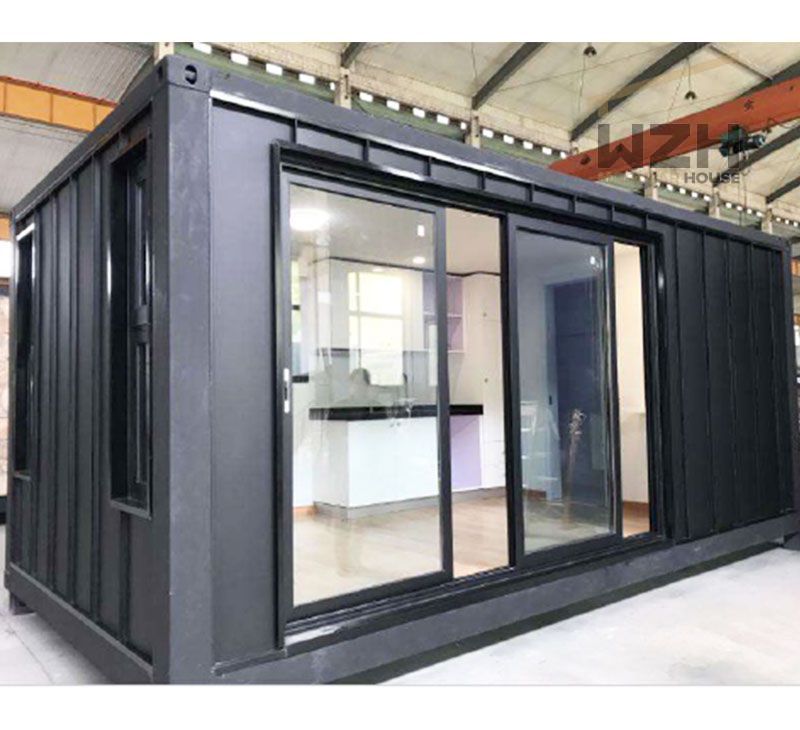 We are professional mobile home manufacturers and we supply shipping container for sale, if you have any questions, please contact us at any time, we will give you a plan about container homes.
FAQ
Q: How can I get sample and how long will it takes?
A: Sample fee will be triple, but we'll refund the extra money after you place an order to us. It usually takes 25 days to produce a sample.
Q: What's delivery time?
A: It'll take about 15 days to finish an order. But the exact time is according to the actual situation.
Q: Do you have quality control?
A: Yes, we attach great importance to quality control.
Q: How about the warranty?
A: 1-year warranty for steel frames since sol