For a long time, there have been many exotic and fashionable houses in foreign countries. Container houses are one of them. Nowadays, container products can be seen in many places in China. What is a container house? What are the advantages of container houses? The Scalable Housing Supplier quietly tells everyone:
The container house is a construction system that once again hits the fashion and cultural trends. It can be moved to various places anytime and anywhere, bringing you a very convenient and comfortable life. He can provide indoor electricity through solar photovoltaic panels, solar water heaters for heating and water supply, indoor showers and domestic water discharge are purified by the sewage treatment system for reuse. According to different needs, container houses of different sizes can be made.
The Easy To Use Container House to build a house is a new model, which is green and environmentally friendly, flexible and changeable. Compared with traditional housing, it can provide more choices for the demanders. Individuals, families, organizations, and even a community can choose what they want. If necessary, a house made of iron boxes is full of culture and fashion, and it is very coordinated with the environment according to the color matching.
Domestic container houses appear more frequently in construction sites, etc., because the so-called container houses are a kind of prefabricated houses. Compared with the container board house on the construction site, it can only meet the rigid needs of accommodation. Compared with a popular high-end container product, whether it is material or comfort, it is completely comparable to traditional construction houses. These Container Houses can also be Customized according to customer needs.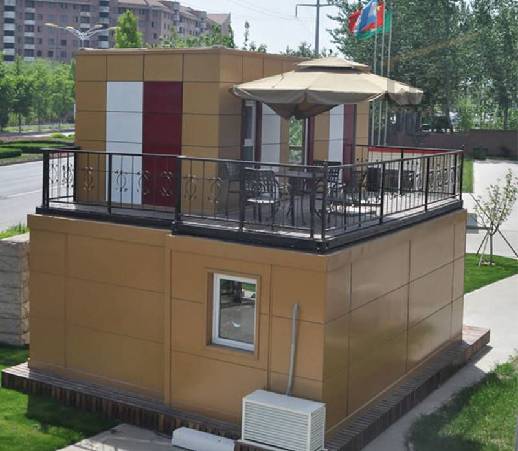 Container Houses
Advantages of container house:
1. Convenient transportation, especially suitable for frequent change of business and use site formats;
2. Rugged and durable, the box body is made of steel, which has strong shock resistance and deformation resistance
3. Good sealing performance, strict manufacturing process makes this kind of container house have good water tightness
Fourth, the container house is based on a standard steel chassis, which can derive many combination spaces. Such as personalized offices, cafes, theme hotels, creative clubs, etc.
5. Convenient disassembly and assembly, superior performance, stable and firm, good shockproof performance, waterproof, fireproof and anticorrosive. The house is a monolithic structure with a frame inside. The wall is made of steel plates and can be veneered by wood panels. It can be moved as a whole. The service life can reach more than 20 years. It can be used properly, even more than 50 years.
Experts believe that in order not to change the nature of the land, to meet the needs of production and operation, to not damage the ecological environment, to achieve low-carbon environmental protection, and reusable resources, the development of container houses can fundamentally become popular nowadays. The development of eco-tourism has played a boosting role.