Container houses are becoming increasingly popular as a sustainable and inexpensive housing option. However, one of the biggest challenges facing shipping container houses is finding the proper way to insulate the containers themselves. The main challenge in properly isolating container houses relates to the inherent shallow depth of the walls. While the metal construction of shipping containers is a strong and durable wall material, the lack of thickness presents a challenge to proper insulation.
To obtain proper insulation in a shipping container, the walls must be constructed to allow for the proper depth to install the insulation, as you would do in a finished basement. If you choose a small homemade container made from one or two containers, space will be at a premium. In this case you are better off adding insulation to the exterior and then covering it with some external cladding . WEIZHENGHENG MODULAR HOUSE introduces you to four common types of insulation.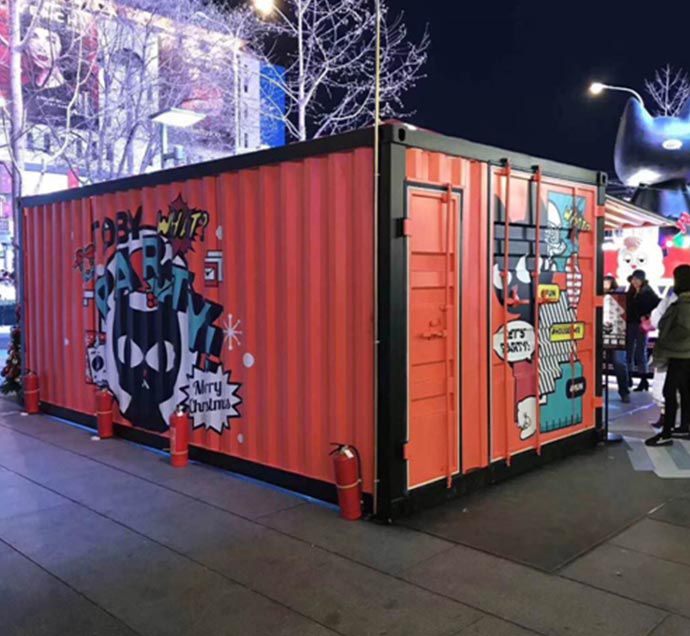 New Design Shipping Container Showroom 20Ft/40Ft Shipping Container House
Cotton
An important ethic of sustainable housing and construction is to reuse as much as possible. Today, several companies offer natural cotton insulation made from recycled, post-consumer denim and cotton from old jeans and other clothing products.
Cotton insulation has an R-value of 3.5 per inch, similar to the more traditional glass fibre insulation. Commercial denim insulation is often treated with boric acid, a natural flame retardant.
On the downside, denim insulation does need a moisture barrier. If it gets wet, it becomes dense, loses some of its insulating properties, and takes a long time to dry.
Spray foam
One of the easiest and quickest ways to insulate a container house is to spray foam insulation. This insulation can be sprayed directly onto the inner and outer walls of the container. Many containers are coated with highly toxic paint to withstand life at sea. Spray foam insulation captures the VOCs (Volatile organic compounds) that can be emitted into your home.
However, spray foam insulation is a product of the petrochemical industry, which is not a sign of sustainability. In addition, the EPA has identified potential health hazards associated with polyurethane spray foam insulation, including asthma, lung damage and other respiratory diseases. In addition, it is important to know that not all spray foams are created equal. Many conventional spray foams have a very negative impact on the atmosphere.
Cork
Cork insulation is another natural insulation alternative for container houses. Cork is a renewable and biodegradable tree resource. Surprisingly, instead of cutting down the cork tree to harvest the cork, the bark is harvested every nine years. This harvesting process makes cork 'carbon negative', as cork forests capture carbon from the atmosphere.
The acoustic properties of cork are another benefit of cork insulation for container houses. This natural insulation will create an acoustic buffer between your home and the metal walls of the container, which can easily transmit sound when left alone.
Wool
Another natural insulation alternative derived from renewable and natural materials is wool. This high-performance and environmentally friendly insulation alternative has an R-value of 3.5 per inch, similar to glass fibre, denim or other fibre insulation types. The lanolin in wool is a natural flame retardant and eliminates the need to treat the wool with other chemical solutions.
Before you go out and shear a few sheep, there are several companies that specialise in selling sheep's wool insulation products. The hygroscopic fibres in sheep's wool can absorb up to 35% of its weight in moisture without altering its thermal properties.
It's important to do a good job of isolating the container; you don't want to enjoy the heat and cold inside. If you have already purchased a container and need inspirational help with remodelling, feel free to contact us. If you would like to get a ready-made remodelled and beautiful house, you can also browse our official website and hopefully you can find a style you like.