In recent years, containers have been widely used in the construction sector, and their low cost, simple installation process and diverse combinations have been loved by the world, creating a space for a comfortable experience. The easy access and quick installation of the container is also a feature of the Modified Container House, making it the first choice for emergency buildings.
Container houses are so similar to active trailer houses, and the comparison of the two methods for construction purposes can be studied as a specific topic. For example, in addition to the unimaginative attempt to dress up an active trailer house as a home, the mobile trailer house does not provide much room for creation. Containers are completely different, and their modular nature provides an extremely free and creative imagination when used as a building.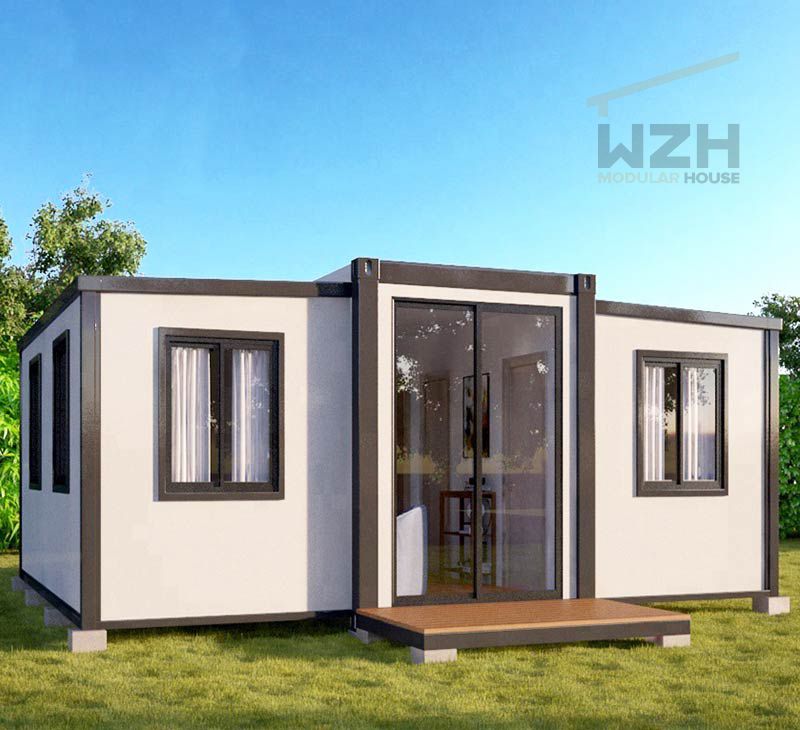 Expandable Container House
Containers are between product design, architectural design and artistic creation. In this sense, they mark the highest achievement in one field and at the same time are the most basic elements in another field. In terms of product design, they have a critical impact on the freight industry and on all aspects related to transportation technology. In terms of architectural design, the magical charm of containers is reflected in many aspects, especially as an independent and complete feature of the basic components. They are both a product of highly precise and complex coordination techniques and a source of total flexibility and free imagination.
In recent years, the emergence of characteristic towns has emerged as an important breakthrough in the new urbanization and industrial economic transformation and upgrading. It has received great attention from the national government and has become one of the hottest topics in investment, construction and tourism. Since the word "characteristic town" was first proposed, the development of characteristic towns has indeed achieved a lot of results. However, there are also some problems in the construction of characteristic towns that bloom everywhere. In some small towns, it is often difficult to make long-term plans for urban development, or even lack necessary planning, resulting in "characteristics" and "characteristics", and even "one thousand towns" and singing "empty city plans" and other issues. The construction of characteristic towns urgently needs more creative design, giving full play to the characteristics and strengths of small towns, and then doing fine, professional and strong.
Along with the emergence of the "dwelling" trend, the "capsule apartment" at home and abroad gradually entered the public's vision and became a topic of social discussion. Container construction has gradually attracted widespread attention from the society. China's container construction is still only a small part of the "dwelling" place, is a new topic, the foreign market is obviously mature, the phenomenon of architect involvement is very common, and gradually become a symbol of fashion, creative life.
Compared with the Mobile Container House and mobile board houses in China, foreign container building design has many references. Green industrial buildings have become an important trend in the development of the construction industry by maximizing resource conservation, reducing emissions and shortening the construction cycle. This project is the result of a number of national projects in the field of construction and building materials. It breaks through the three key technologies of building full module and intelligent design, modular unit connection and modular building construction, modular building for green building materials research and application, and will be green building structure, The function, decoration and other block design and high integration are prefabricated into a single box, which fully demonstrates the features of fast, low carbon, healthy and intelligent.
If you are interested in container houses, don't hesitate to contact us. We can provide you with Expandable Container House, modified container house, etc. We welcome you.